Sheetah & Les Weissmuller release party!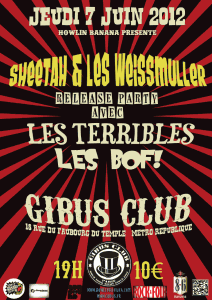 This Thursday, Sheetah & Les Weissmuller will celebrate the release of their new LP, Evolution française at the Gibus Club in Paris!
Three live shows, with Les Terribles from Paris, Les Bof! from Edinburgh and Sheetah & Les Weissmuler:  let's party!
SHEETAH & LES WEISSMULLER
http://www.myspace.com/sheetahetlesweissmuller
LES BOF!
LES TERRIBLES
http://www.myspace.com/lesterribles
¤¤¤ June 7  ¤¤¤ 20 PM ¤¤¤ 10 EUROS ¤¤¤