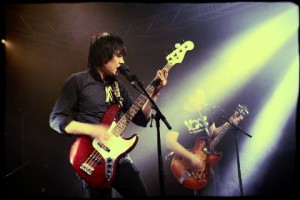 These Freaks came out of their graves in 2007 and decided to call themselves the "60 Second Swingers",  in reference to the all-time classic by Little Phil and The Night Shadows.
A well suited name for this garage punk combo hailing from La Rochelle, made up of memberz from the Mean Things, Wild zeros and Pneumonias, i.e. the very best of the french garage-punk scene!
They play an explosive brand of rock'n'roll,  fast-paced, organ-driven and fuzzful Garage punk music inpired by 80's legends such as the Miracle Workers, the Primates or the Untold Fables. Needless to say, this is the perfect soundtrack for a dancing-night in the crypt folks!
As everyone knows, rock'n'roll is the best way to meet pretty young gals, and the guys from Fuzz Overdose Records, Greece, completely understood that and helped the 60 Second Swingers in their quest for fresh flesh by putting out their first 3-track EP. Now Howling Banana records has released their second 2 track EP and the ghouls are more than ready to visit the world… by night obviously!